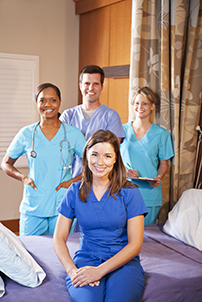 A wide range of companion care services are offered at home, in the hospital, or in healthcare facility settings. Whether you need elderly companion care services, senior companion care services, care services for your disabled child, 24 hour home, or homemaker assistance for a loved one who is chronically ill or recovering from surgery, we can help.
Choosing a caregiver to provide care for your loved one can be exhausting and cause anxiety. However, it doesn't have to be that way! Our Services intake specialist will take the time to get to you know you and your specific needs. When selecting the best aide for you, we consider numerous factors: services needed, your loved one's interests and the personalities of both your loved one and the caregiver.
We are dedicated to making your in-home care experience a positive one.  You can rest assured that your caregiver will perform with compassion, knowledge, and professionalism.
Our Caregivers are specially trained to provide the services your loved one needs. We modify our services for your family member as their needs change, allowing them to live at home as long as possible. Giving you the peace of mind knowing your loved one is receiving quality care, right in their own home. Whether you're seeking live-in care, hourly services or respite care, we can help you and your family today.
Though our in home caregivers cannot administer medications, they can provide regular reminders for oral medications or injections, and can assist with pre-measured medication and the monitoring of side effects or other medical issues. Our home health aides who provide this service have met and maintain requirements for Home Health Aides in providing assistance with medication administration.
Some individuals fail to get adequate nutrition simply because they don't want to bother with preparing a meal and cleaning up afterward. Our aides can prepare regular meals that maintain a healthy diet, provide sufficient nutrition for the application of medicines, and simply add joy and comfort to your day. Plus, our caregivers handle all the cleanup!
Our homemaker companions provide vacuuming, dusting, trash removal, organizing and tidying rooms, closets, and drawers, and the light cleaning of kitchens and bathrooms. A tidy home is a happier, more comfortable home and contributes to the overall health and bell being of the residents. We are happy to help!
Companions can assist you or your loved one with laundry care. They can wash, dry, fold, iron and put away clothing, bed linens, and towels. Laundry care can often be a boon for people who have trouble with mobility, experience joint pain, or tire easily. By providing this in-home care service, we can assist your with saving time and physical exertion and improving health and comfort.
SHOPPING, ERRANDS, AND TRANSPORTATION
Getting groceries, ordering prescription refills, following-up with scheduling doctor appointments, etc., are common needs of those who want to maintain independence at home. Greater Vision can provide these services directly, including shopping at specific stores for a client's favorite or needed items. They can also provide incidental transportation for our clients who would like to run errands and socialize, all while ensuring the client's well-being. Aides or nurses who are cleared to provide transportation undergo additional screening requirements to ensure the safe transportation of you/ your loved one.
Our in home caregivers will take a client to a favorite activity—perhaps a nature class, bingo, or a concert—and are happy to join in a game of cards or Scrabble.